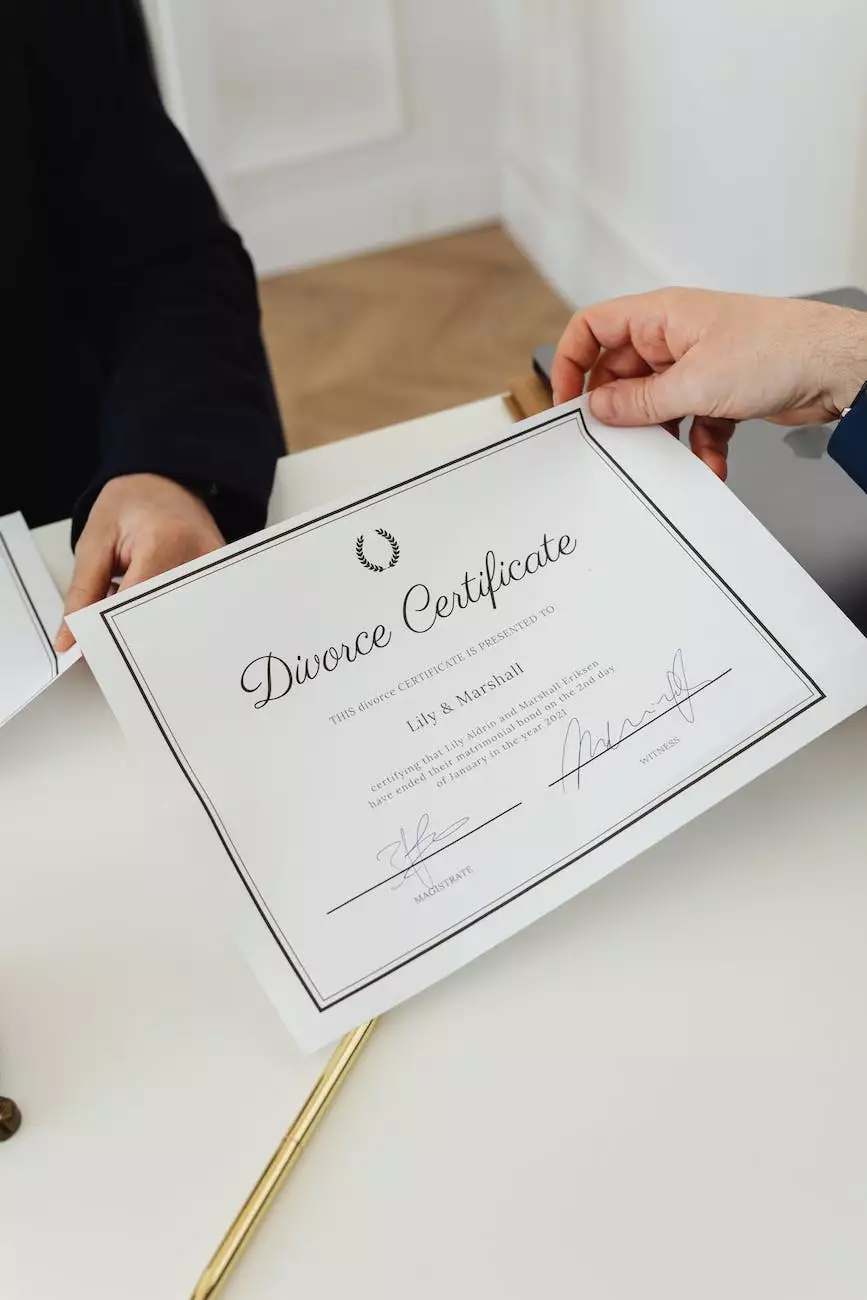 Professional Signing Solutions by Smith Notary Solutions
Welcome to Smith Notary Solutions, your trusted partner for all your notary needs in Florida. As a leading provider of professional signing solutions, we specialize in assisting individuals who require an apostille for their divorce certificates. With our expertise and attention to detail, we ensure a seamless process, allowing you to obtain the necessary certifications hassle-free.
What is an Apostille?
An apostille is a special certification issued by the Secretary of State or equivalent authority, validating the authenticity of a document for use in foreign countries. In the case of divorce certificates, obtaining an apostille ensures that your documents will be recognized and accepted in countries that are part of The Hague Apostille Convention.
Why Apostillar Certificados de Divorcio en Florida?
There are several reasons why you might need to apostille your divorce certificates:
Planning to remarry abroad
Pursuing international child custody arrangements
Residency or visa applications in foreign countries
Handling legal matters with foreign entities
By apostilling your divorce certificates, you ensure their authenticity and legality, avoiding unnecessary complications or rejections when dealing with foreign authorities. At Smith Notary Solutions, we understand the importance of a smooth process and provide comprehensive support throughout.
Why Choose Smith Notary Solutions?
When it comes to apostilling your divorce certificates in Florida, choosing the right service provider is crucial. Here's why Smith Notary Solutions stands out:
1. Expertise in Apostille Procedures
Our team of experienced professionals possesses in-depth knowledge and understanding of the apostille process for divorce certificates in Florida. We stay up-to-date with the latest regulations and requirements to ensure a flawless execution.
2. Personalized Assistance
At Smith Notary Solutions, we believe in providing personalized assistance tailored to your specific needs. Our dedicated staff will guide you through each step of the apostille process, answer your questions, and address any concerns you may have.
3. Timely and Reliable Service
We value your time and understand the importance of meeting deadlines. Our efficient processes and attention to detail enable us to deliver timely and reliable apostille services for your divorce certificates.
4. Commitment to Confidentiality
Your privacy and the security of your personal information is our top priority. Smith Notary Solutions follows strict protocols to maintain confidentiality throughout the apostillation process.
5. Competitive Pricing
We believe that obtaining an apostille for your divorce certificates should be affordable and accessible. Our competitive pricing ensures you receive exceptional service without breaking the bank.
Contact Smith Notary Solutions for Apostillar Certificados de Divorcio en Florida
If you require an apostille for your divorce certificates in Florida, don't hesitate to reach out to Smith Notary Solutions. Our experienced team is ready to assist you with professional signing solutions.
Contact us today at XXX-XXX-XXXX to discuss your requirements and initiate the process. Trust Smith Notary Solutions for a hassle-free apostillation experience!